Parent Teacher Conference - BOTH Afternoon & Evening Session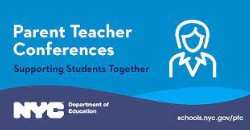 What

Parent Teacher Conference - BOTH Afternoon & Evening Session

When

11/18/2021
Afternoon Session - 12:20pm to 3:20pm
Evening Session - 5:00pm to 8:00pm

Preparing for the PTC
The PTC is an opportunity for you to speak with your child about their experience with learning, and share their questions and concerns with their teacher.

Below are ways to engage your child in preparation for the PTC:

■Ask your child how they feel about school, and jointly prepare a short list of questions or concerns that you can raise with the teacher.

■Ask your child what their strongest and weakest subjects are, and which ones they like most and least.

■Ask your child how they feel about their relationships with their teacher and their peers. Do they feel supported and welcomed in the classroom? Is there anything they would like support with outside of schoolwork?

■Review your child's academic progress, test scores, and attendance on your NYC Schools Account (Open external link below)

■Make a list of questions you have, and topics that you want to discuss with the teacher. Include things that might help them understand your child's challenges, strengths, and interests. Describe what you see as your child's strengths and explain where you think your child needs more help.

■Think about what you can tell teachers that will help them understand your child better, such as your child's favorite subjects, special interests or hobbies, medical conditions, family situation, or any problem that might affect learning, attendance, or behavior.

Most importantly, remember to ask, "What can I do to support my child?"
Copy to Google Calendar
•
Download iCal Event