District 29's Guardian's Guide to Google Classroom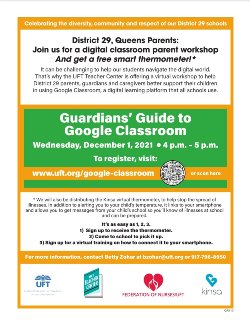 What

District 29's Guardian's Guide to Google Classroom

When

12/1/2021, 4:00 PM

–

5:00 PM

Where

Online via Zoom
Join us for a digital classroom parent workshop and get a free smart thermometer!*

It can be challenging to help our students navigate the digital world. That's why the UFT Teacher Center is offering a virtual workshop to help District 29 parents, guardians and caregivers better support their children in using Google Classroom, a digital learning platform that all schools use.

* We will also be distributing the Kinsa virtual thermometer, to help stop the spread of illnesses. In addition to alerting you to your child's temperature, it links to your smartphone and allows you to get messages from your child's school so you'll know of illnesses at school and can be prepared.

It's as easy as 1, 2, 3.

Sign up to receive the thermometer.Come to school to pick it up. Sign up for a virtual training on how to connect it to your smartphone.
Copy to Google Calendar
•
Download iCal Event