Benjamin Franklin High School for Finance & IT (BFIT) - Virtual Open House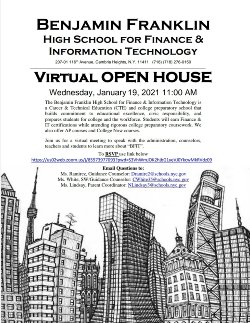 What

Benjamin Franklin High School for Finance & IT (BFIT) - Virtual Open House

When

1/19/2022, 11:00 AM

Where

Online via Zoom
The Benjamin Franklin High School for Finance & Information Technology is
a Career & Technical Education (CTE) and college preparatory school that
builds commitment to educational excellence, civic responsibility, and
prepares students for college and the workforce. Students will earn Finance &
IT certifications while attending rigorous college preparatory coursework. We
also offer AP courses and College Now courses.

Join us for a virtual meeting to speak with the administration, counselors,
teachers and students to learn more about "BFIT".
Copy to Google Calendar
•
Download iCal Event