D29's Dad's Take Your Child to School Week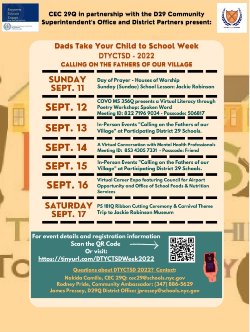 What

D29's Dad's Take Your Child to School Week

When

9/12/2022, 6:00 PM

Where

Online via Zoom
Monday, September 12th, 6 pm
Community Voices Middle School 356Q presents a Virtual Literacy through Poetry Spoken Word Workshop.

Meeting ID: 924 7446 2396 Passcode: 206121


CEC 29Q, in partnership with the Community Superintendent's Office and District 29 Partners, present DTYCTSD 2022 - Calling on the Fathers of Our Village, Sunday, September 11, 2022 through Saturday, September 17, 2022.

District 29Q is Calling on the Fathers of Our Village to assist schools in supporting the many children who may not have a positive male role model in their respective homes.

Please find the weekly schedule of events, and additional DTYCTSD information attached.

Zoom meeting codes are available on the flyer provided.
Copy to Google Calendar
•
Download iCal Event